10 Delaigh Ave, Baulkham Hills NSW 2153
10 Delaigh Avenue
Baulkham Hills
New South Wales
2153
AU
Fab Fun has been operating since 2009 and we offer a wide range of exciting party ideas and entertainment, which is guaranteed to keep the family entertained for hours.
Fab Fun offers professional and high quality children and family entertainment. We endeavour to maintain safety standards with our products and materials and all products used are up to date with current standards and quality.
We exist to bring Joy and Happiness to Children's Special Events
Children's Party Entertainers in Sydney and Melbourne
Call to speak with a party entertainment specialist now
to help plan your event!
Activations & Brand Building
To add a touch of class to your next activation or brand building event, why not contact one of our consultants to discuss more options? We will assist in connecting your brand with the people that matter.
We can accommodate your needs from costumes, to colour coordination to matching the appropriate skills and expertise, in order to create the outcomes you require from your event.
Corporate Events
Memorable Family Fun Days and Corporate Parties
Whether we organise all the bits and pieces of the whole day, or focus on bringing the entertainment to your family day, we can ensure that our participation in your event will bring the WOW factor and take the stress out of your family day coordination.
Our party consultants align themselves with the party coordinators leading up to and on the day of the event, to assure that we incorporate the values of your company and provide utmost satisfaction.
At Fab Fun we are able to provide a wide variety of party entertainment and activities along with infrastructure and décor for many different activities, that you may require for your next family fun day.
Please see our services page for more information of what we are able to provide on the day.
Entertainment Services
Face Painting
Here at Fab Fun we have skilled face painters that are able to paint for children's parties all the way up to adults and fancy-dress parties.
We are able to provide professional artists for:
Childrens events and parties
Adults parties
Corporate parties
Corporate events
Community events
Large scale events
Fab Fun provides all equipment necessary including tables and chairs for artists if required.
Private Parties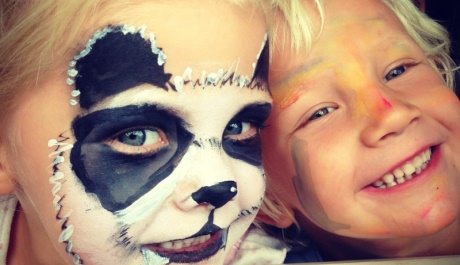 Lots of Fun
This is our best selling package to date and has great all round activities for the whole family. With stunning Face painting and awesome balloon twisting, our creative & talented artists and twisters will have everyone WOWed.
Fun and Games Package
Another one of our most popular package to date. This package offers a little bit of everything- face painting, games, music, dancing, prizes and balloon twisting
Face painting
Party games, music and dancing
Prizes and giveaways for games participants
Balloon twisting
The games chosen by the entertainer will reflect the amount of room available so if you have hired a function room or restaurant, where there is limited space, games that are relatively "structured" will be chosen and played (Musical statues, Simon Says, Limbo, musical bops etc.) Where there is a large amount of room available, running around games can also be incorporated.
It's also important to note that each entertainer has their own repertoire of games so if your child has a special game they love to play, please communicate this when booking your party and we can ensure that we will incorporate this game into our routine.
As a rough guide for timings and the kids attending your function, one entertainer for 1 hour can comfortably cater for up to 12 kids, 1.5 hours and we can comfortably cater for around 15 – 20 and for 2 hours we can comfortably cater for up to 25. (Please note that our numbers are quoting the maximum amount of children only. If we have more time to work with smaller groups, there is a far higher level of skills and workmanship that we can deliver to your event).
In addition to this, our face painters take around 2.5 minutes for a quick face painting and 5 mins for something more elaborate per child.
Wheelchair Accessible:
No